We are dealing with international chess board and coins. We are also selling digital & analog chess clocks, chess course materials, chess books, CDs & magazines.
CHESS BOARDS:
We use vinyl chess boards & Rexine chess boards for Tournament standard. The Chess boards can be used for schools and college purposes, club and tournament purposes. We manufacture the boards on the basis of customers' options, (i.e.) any colour and logos of them if they need.
Sizes: 18" ×18"
17"× 17"
Price of per piece: Rs.100/- ANCA Chess Board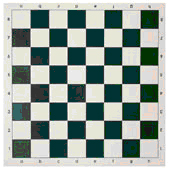 CHESS PIECES
These plastic chess pieces are of good design made for tournament purpose. These are solid, strong pieces made up of HIPS virgin material. It will come in Ivory and Black colour which is suitable for players to play/ move in games. It will not affect eyes while playing because of the pleasant colours.
Tournament chess coins set pack consists of
16 white pieces (1 King, 1 Queen, 2 Rooks, 2 Bishops, 2 Knights, 8 Pawns)
16 black pieces (1 King, 1 Queen, 2 Rooks, 2 Bishops, 2 Knights, 8 Pawns)
(1 White Queen &1 Black Queen – Extra pieces will be there)
Size : King- 3 ½ inch size.
Weight : Total weight of a set is 450 gm.
Ivory set-225 gm
Black set-225 gm
Price of a set: Rs. 250/-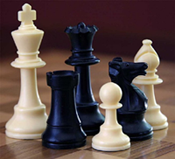 CHESS KIT BAG
Chess boards, coins and score sheet can be carried in one bag.
Price of a Bag : Rs.100/-
Separate coin pouch is also available. It costs Rs.50/- per piece.
Separate board pouch is also available. It costs Rs.25/- per piece.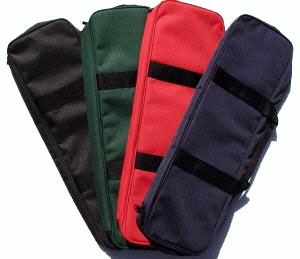 CHESS CLOCKS
DGT 2010, The official chess clock of the World Chess Federation FIDE.

The DGT 2010 was introduced in 2007 and received the status of "Official FIDE Chess Clock" in June 2008 after tests by four top-level arbiters concluded that the clock is in full accordance with all FIDE rules and regulations.

Some features of the DGT 2010 were amended in November 2010 to comply with popular timing systems.

The main differences of the new model DGT 2010 with respect to the previous version are:
The front buttons are dark blue instead of red.

For every manual option, the last setting is automatically saved. Even after switching off the timer or using other options this setting is saved.

Options for Scrabble™ are added.

Bronstein delay with multiple time controls can be set.

In Canadian Byo-yomi the extra time can be added automatically after the required number of moves.

Some preset times were amended to more popular settings.
The DGT 2010 is suitable for use with many games e.g. It has Japanese and Canadian Byo-yomi settings for Go.
Rate of a piece is Rs.4100/-